A wedding is the dream moment for all, and it should be grand. Nowadays, a destination wedding has become more popular than the conventional one. People prefer to go to beautiful places and especially to resorts. Deciding on the wedding venue is the most difficult part of the entire wedding. For every couple, the wedding is the most important event of their life. All they are attending from all. If you are planning for any type of destination wedding, then a Wedding in Jodhpur can be an excellent idea. Here you will get multiple resorts to book for your wedding. The location of the venue also plays an important role. This is important that your resort should be located centrally so that this is easily accessible to your guests. So that they can reach their destination quickly without any hassle.
Jodhpur is the perfect destination to get married
Once you have decided that you will go for the destination wedding or a pre-wedding shoot, the Resort in Osian is the best place to choose. The royal architecture, freshness, and Rajasthani flavor will add a new essence to your wedding. This is the ultimate destination for those couples who want to celebrate their wedding day far from the City crowd and also in a unique style.  So without further ado, book your resort. Otherwise, you won't get the booking. 
Find the perfect wedding venue in Jodhpur
Jodhpur has become one of the leading destinations for weddings in India. For any kind of Royal wedding in Jodhpur, Rajasthan is the perfect destination. Rajasthan has palace weddings, fort weddings, Haveli weddings, and many more. These places are ideal for wedding destinations. When you go to Rajasthan there, you will get multiple locations where you can organize the destination wedding.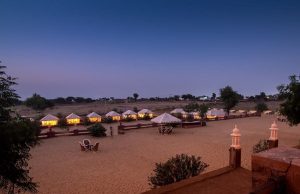 The mesmerizing history of Jodhpur makes this location a perfect destination for a wedding. Jodhpur has many royal destinations, palaces, Havelis, and five-star hotels. Many people want to avoid the crowd, and that's the reason they visit these places. All the staffs are very well behaved, good and decent and helpful too. So this time, surprise all your near and dear ones. 
Another reason is clicking the beautiful pictures. No doubt, this is true that the Jodhpur destination wedding will make everyone jealous, and you can click many beautiful pictures, which is not possible in the city crowd.